TRUSTED BY INDUSTRY LEADERS
The struggle of using spatial data
Let's face it - managing, sharing and integrating spatial data is hard. Meeting your client's varying data consumption needs is a real task that requires constant development, maintenance and support from your team.
Structuring and managing your own data, from inputs to outputs, can be equally challenging. Especially when dealing with a variety of high-volume spatial data.
This hinders you from developing a future-proof, end-to-end data service that scales, and keeps you away from your core business: providing spatial data of value.
Easy and secure access to your content!
Ellipsis Drive makes managing, sharing and integrating your data products easy for literally everyone. Yes, everyone.
Ellipsis Drive integrates spatial data seamlessly with any software, framework or stack that your team, partners or clients are already using. Enabling effective data use from Day 1 regardless of anyone's professional background or tools of choice. Provide a flawless data consumption experience, while keeping you focused on producing and selling valuable data products
What can Ellipsis Drive do for you?
Make spatial data management easy for your team and your clients.
Connect your data to your workflows and audience in minutes.
Support all popular data endpoints and protocols off-the-shelf.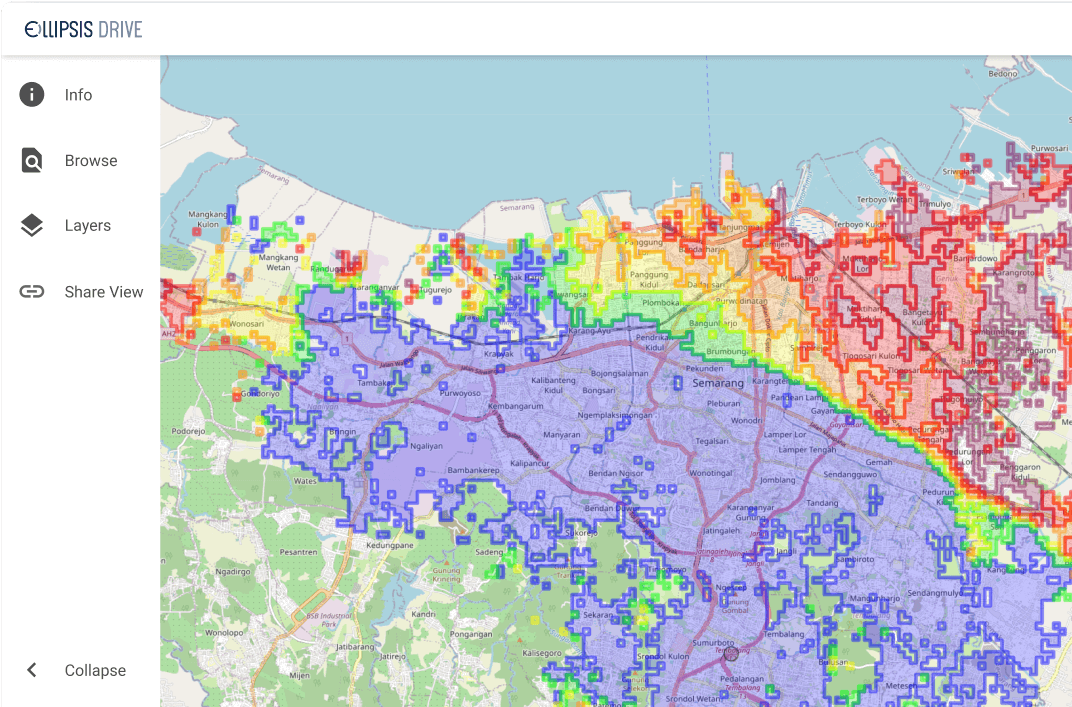 OPTIMIZED FOR SPATIAL DATA
Simply put, it works like a Drive!
We make your spatial data and analytics products as easy to manage, share and collaborate on as any text document in a regular drive. Ellipsis Drive converts uploaded spatial data files into beautiful live maps and web services.
Made flexibly accessible through REST-API, Python package, OGC Protocols or a simple web URL, in addition to plugins for your favorite tools and tech stack!
PLUGINS AVAILABLE FOR
Join our global community of passionate spatial data professionals.
The spatial industry plays a crucial role in shaping the future. Democratizing spatial data to elevate the spatial industry is all that matters to us.
Stay up-to-date on what's happening in the spatial industry.
Here's what our customers have to say
"Ellipsis Drive is a great, simplified alternative when traditional data publishing solutions become too complex for non-GIS professionals."
Davide Passarelli, Senior Technical Specialist Geoservices
Planetek
Your Drive, your data, your choice.
Ellipsis Drive has a simple storage-based payment model: you pay a monthly fee for the amount of data in your Drive.That's it.
The number of people you share your content with, or how that content is used, is entirely up to you and does not affect fees in any way. We offer the vault, but you keep the keys!
Start now with 5GB free storage