Expert's Opinion
Episode 5: Aravind Ravichandran, Founder @TerraWatch Space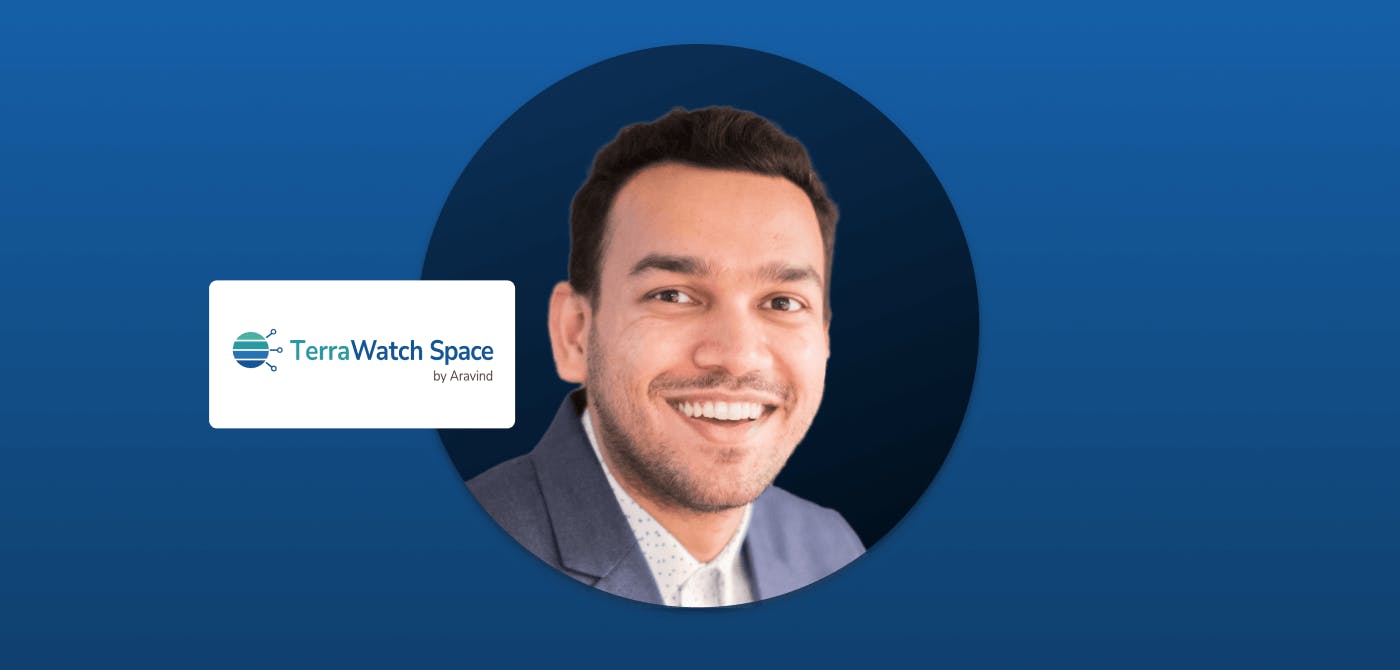 Welcome back to a brand new episode of 'What's New in NewSpace?', a Q&A series that covers the opinions, perspectives and vision of industry thought leaders and organizations that are leaving a mark on the NewSpace industry for good.
We are delighted to feature Aravind Ravichandran, Founder of TerraWatch Space. Aravind needs no further introduction, being a highly recognized and respected voice in the NewSpace industry. 
Aravind has worked with some stellar companies such as Amazon, PWC, tomorrow.io to name a few. TerraWatch Space was born as a vehicle to make EO mainstream by improving the awareness and adoption of satellite data. He has been featured in key forums such as ViaSatellite Forum, WSJ, Space in 60 amongst many others.
Aravind uses his experience and expertise to provide insights, advice and counsel to companies within the industry, thereby helping the industry as a whole to transcend and reach new heights.
Here are some of Aravind's thoughts and opinions on some of the questions we posed to him.
How do you foresee the evolution of the NewSpace industry?
Space is increasingly moving away from being a vertical market to becoming horizontal that enables the transformation of other markets. This means space technologies, especially data collected by satellites, will have an impactful role to play in the digital and climate transformations that organizations are going through.
However, I expect the NewSpace industry to become more holistic and end-to-end in the next few years, as awareness outside the space industry increases and adoption of satellite data starts to happen. Space will be looked at as a means of solving a problem, whether it is by launching satellites, acquiring data from satellites or purchasing products based on products from satellites.
Satellite data, of course, has a fundamental role to play in every challenge we face - from economic to defense, from societal to environmental. The advent of NewSpace has meant that we are collecting more data about our planet than ever before in human history, so that we can better understand it, learn more about the impact of our activities on the planet and the relationship between the two.

How does the growth of start-ups in the NewSpace industry affect the entire ecosystem?

I believe NewSpace is a mindset. Startups obviously have a more agile, innovative and rapidly executing approach, which adds to their advantage. The legacy space players, however, have decades of experience either developing satellites, working with data from satellites as well as understanding customer needs and processes. So, rather than thinking of this as a competitive thing, I believe this should be complementary.
We are already seeing that happen - some large companies are forming strategic partnerships with startups, while others are becoming their customer in order to improve the overall offerings. In the end, from an Earth observation point of view, I believe it is about who can build/help build products that are trustable, scalable and reliable for solving their problems effectively. Whoever does that, whether it is the experienced ones or the startups, they will end up becoming the winners.
Where does data delivery and integration fit into development of the NewSpace ecosystem?
It is one of the biggest bottlenecks for the growth of the Earth observation industry. From my experience, I know that it is a crucial factor that is important for making the use of satellite data mainstream. The solutions that space enables need to be end-to-end, making sure that the adoption of the technology actually leads to a transformational impact. If the technology does not enable its user to see that impact or lead the way towards it, the user is not going to adopt the technology because of the time and cost efforts needed to reach the impact.
Therefore, I believe that it is fundamental that any organization building a product to be used by the customer makes sure that they understand the impact of their product for the customer, so that they can build additional tools or mechanisms in order to enable that. 
Sometimes it can be as simple as having an intuitive user interface whereas at other times, it would require the organization to partner with another one (or develop it themselves) to guarantee that the customer's job is done. When we make products that are impactful, easy to consume and efficient, I believe the adoption will happen at scale.
Closing Thoughts
We would like to thank Aravind for taking the time to share his valuable viewpoints on the matter for the betterment of the NewSpace industry. We are confident that these insights and opinions, when heard and acted upon by other thought leaders, will create true synergy and growth.
Do you have valuable insights to share with the NewSpace community? Get in touch with us!
Be sure to subscribe to our newsletter and follow us on social media to not miss out on a new episode. Until next time!
Join our global community of passionate spatial data professionals.
The spatial industry plays a crucial role in shaping the future. Democratizing spatial data to elevate the spatial industry is all that matters to us.Stay up-to-date on what's happening in the spatial industry.