Expert's Opinion
Episode 7: Daniel Wicks, Head of Geospatial Intelligence @Catapult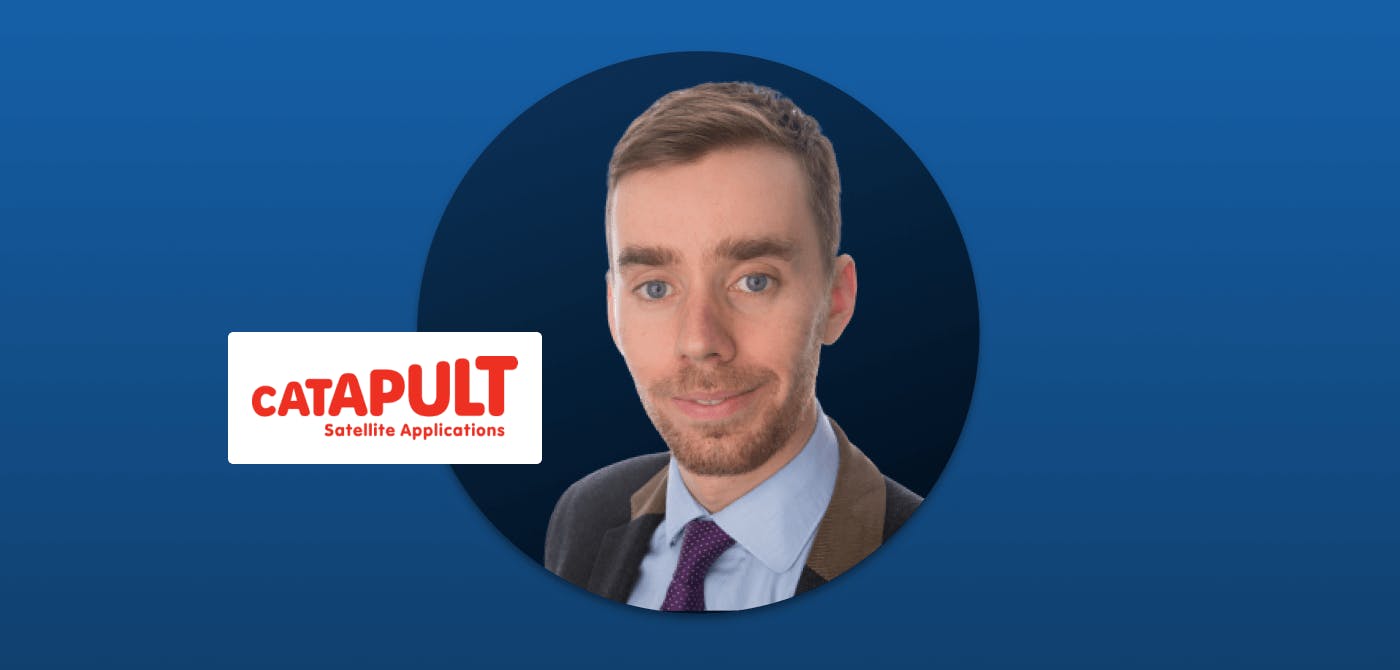 Welcome back to an exciting new episode of 'What's New in NewSpace?',  a Q&A series that covers the opinions, perspectives and vision of industry thought leaders and organizations that are leaving a mark on the NewSpace industry for good.
For this episode, we have with us Daniel Wicks, Head of Geospatial Intelligence at Satellite Applications Catapult, a UK based company that aims to increase the uptake of space technology and satellite-based applications in order to create a sustainable world. 
Read the full interview below to learn more about Daniel and Catapult's mission and thoughts on the future of the NewSpace industry. 
Where do you think the NewSpace industry is heading towards in terms of data production and availability?
NewSpace is riding the wave on two fronts -  advancements in the field of science and technology being the first one, and gracious investments from the private sector being the other. 
While there are some excellent examples of innovation (some which are demonstrating commercial success), the reality of the market for NewSpace is a wide range of immature and disaggregated users being subsidised by defence customers.
To be successful, NewSpace requires a critical mass of adoption, which means mainstream usage of data and services enabled by space. This necessitates the selling of solutions rather than technology and understanding how space fits with the narrative that large corporations have around business intelligence. 
Overcoming this fundamental marketing challenge will unlock a sustainable and scalable route to market for Earth Observation. This will result in a consolidation of the NewSpace industry, and lead to a demand driven approach (where user needs dictate service design) for future data production. Much of these needs are being driven by business' gravitation towards sustainability. Space has significant value to offer in this sense, both technically as a solution, but also in the context of complex political economy.
These changes will surely allow the  NewSpace economy to reach its full potential and create a positive impact towards climate change through new innovative products and services.
What is your organization's role in this?
The Satellite Applications Catapult is at the heart of the satellite services revolution, driving the uptake of space technology and applications to shape and sustain the world of tomorrow. We're driven by how our actions help the companies bring new services to market. By connecting industry and academia ,we get new research off the ground and into the market more quickly.
The Geospatial Intelligence team has a strategic focus and expertise in overcoming blockers to the adoption and use of Earth Observation across markets (which includes policy and regulatory issues, data discovery and access, education, thought leadership and innovation in commercialisation). The team also works to identify and develop new value propositions for EO across different market verticals in support of a UK economic growth agenda.
What is your own experience with data delivery and integration issues related to NewSpace data?
The Catapult works to unlock customer demand, open new markets to the space sector and help companies bring their products and services to market. Bridging the gap across these activities has led to a few key observations on data delivery and client-side integration for Earth Observation.
There is too much focus on making a business out of the 'dark art' of fundamental data management and processing tasks. The reality is that this is stifling the potential for adoption while it is perceived as unapproachable and hard-to-understand technology. The data and the tools to make use of this data should follow an open source first principle to maximize utility and allow industrial focus towards value-added products and services.
It is important to be clever about where to add value and where to complement existing value chain solutions. Users need to be sufficiently educated or experienced to get value out of a particular form of data. As you go down the value chain towards the eventual customer, the knowledge gap between technology and use is less, but the context in which it is being considered is likely greater.
Once your effective position in the market is well understood, it is essential to know your audience and tailor accordingly. For example, when thinking about an application for EO like environmental impact in supply chains, many large corporations don't want to consume or be hands on with data or data analytics capabilities, so the key is to think about integration upstream, into the business tools and systems that they already procure and use.
Simple is often the best, all the way from the proposition itself to the user interface. Distilling the complexities of data or technology into a focused solution that addresses a well characterized user need and is interoperable and easily integrated into other systems offers the best chance for having a commodity product that is widely adopted and used.
Our Final Thoughts
We would like to thank Daniel and the team at the Catapult for taking the time to share their valuable opinions and perspectives with our readers. We strongly believe that such forums are the best way to share ideas, voice challenges and collaborate with one another. 
Do you have valuable insights to share with the NewSpace community? Get in touch with us!
Be sure to subscribe to our newsletter and follow us on social media to not miss out on a new episode. Until next time!
Join our global community of passionate spatial data professionals.
The spatial industry plays a crucial role in shaping the future. Democratizing spatial data to elevate the spatial industry is all that matters to us.Stay up-to-date on what's happening in the spatial industry.