Company Update
Answr and Ellipsis Drive Empower Businesses to Build Resilience Against Climate Risks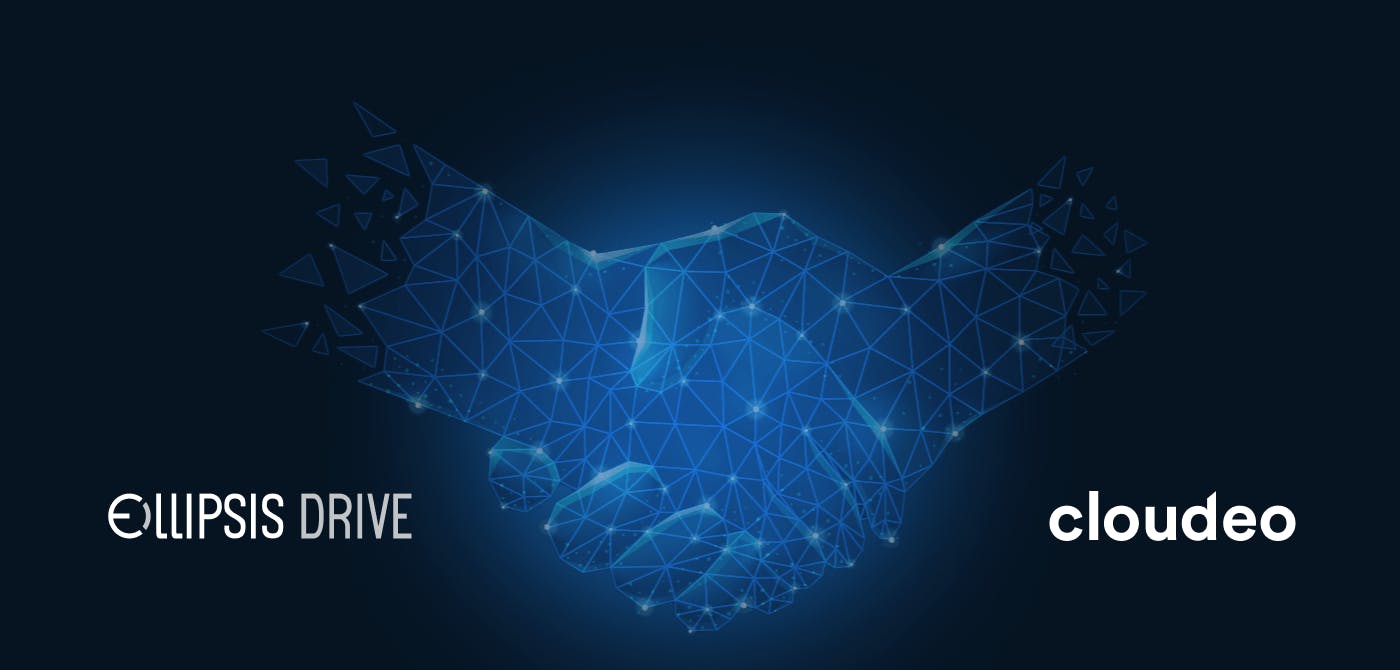 Liked what you read?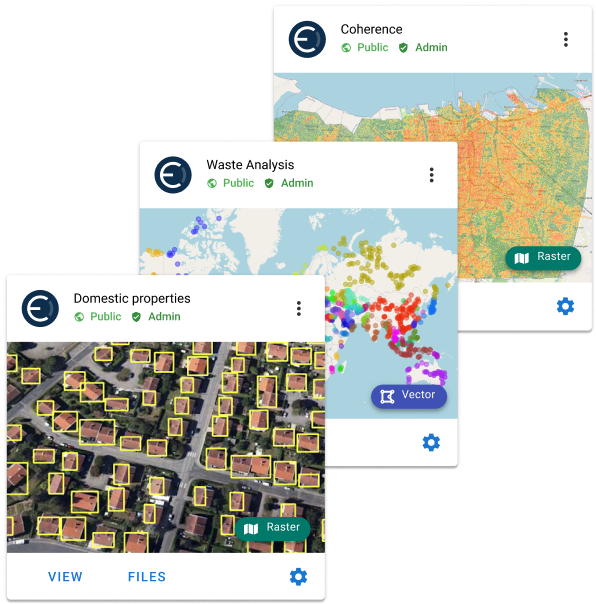 Subscribe to our monthly newsletter to receive the latest blogs, news and updates.
Cloudeo and Ellipsis Drive are proud to announce the integration of answr, Cloudeo's advanced climatic risk forecasting and analytics platform, with Ellipsis Drive, the cloud-based storage and file-sharing platform for spatial data. This integration is designed to provide businesses and organizations with an innovative way to manage and understand climate risks and natural hazard forecasting, enhancing strategy building and business decision-making.
Answr is an API-based platform that processes complex geospatial data to provide advanced risk and forecasting analytics for climate hazards and extreme events. It is ideal for various industries, including governments, insurance, real estate, renewable energy, and green tech. Ellipsis Drive, on the other hand, is a cloud-based storage and file-sharing platform that converts uploaded spatial files into live maps and web services. It also organizes these files in a familiar manner, similar to drives used for office documents, providing users with an intuitive and user-friendly experience.
Dr. Manfred Krischke, CEO of Cloudeo, said: "We're excited to share that answr is now integrated with Ellipsis Drive, expanding our market reach and offering businesses a new and innovative approach to managing and comprehending climate risk by visualizing answr's data layers as live, user-friendly, and easily shared maps".
"Answr provides Ellipsis Drive users with quick and simple access to vast quantities of climate and risk data assembled and unified based on numerous sources. This can now be used to improve calculations and automate workflows.", stated Rosalie van der Maas, Ellipsis Drive CEO.
This integration expands the market reach of both platforms and has the potential to drive positive impact on society and the environment.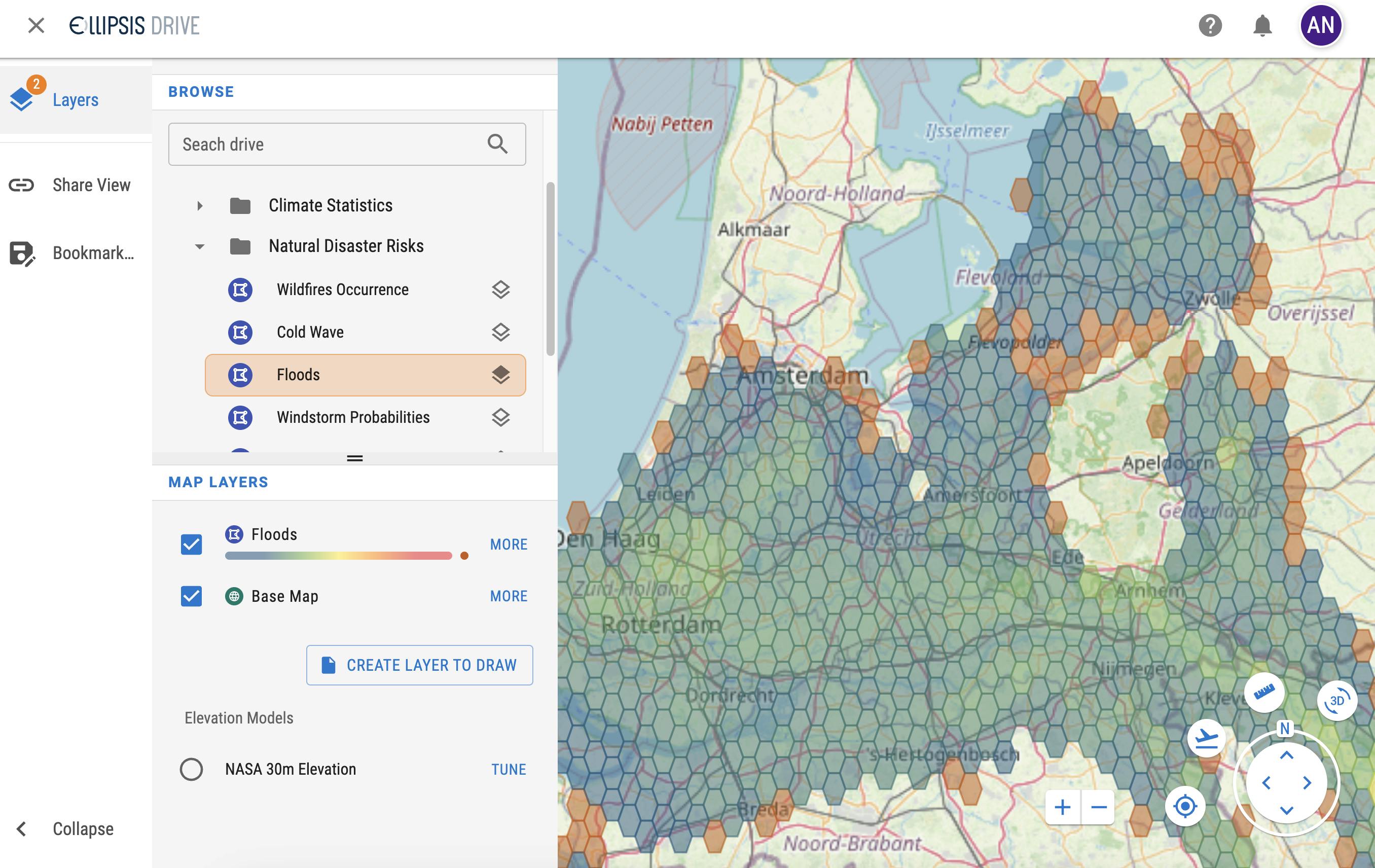 IMAGE - Flood risk, one of answr's natural disaster risk layers, as visualized through Ellipsis Drive platform.
Empowering Insurance, Real Estate, and Agriculture Industries
With the integration of answr's risk and forecasting analytics with Ellipsis Drive's cloud-based storage, visualization, and sharing capabilities, businesses can make informed decisions for the mitigation of natural disaster risks.
"The partnership is a great example of how to make spatial data more accessible and useful for the insurance, planning and civil engineering industries", said Ellipsis Drive CEO, Rosalie van der Maas. Insurance companies, the main customers of answr platform, can now visualize answr's data layers through Ellipsis Drive to better understand the potential impacts of climate hazards and price risks associated with extreme events.
Real Estate businesses can manage and store answr's climate risk forecasting data through Ellipsis Drive; in this way they will be able to assess current and potential future climate risks for all properties in their portfolio, including hazards such as flooding, sea level rise, extreme heat, and wildfires, and collaborate more effectively with other real estate industry actors and stakeholders, such as lenders, insurers, and government agencies, to develop and implement comprehensive climate risk management strategies.
Similarly, the Agriculture industry can now leverage the easy visualization and sharing of natural risk data on a local scale and make informed decisions on the adoption of more sustainable agricultural and water management practices.

Ede, Netherlands & Munich, Germany, March 15, 2023
Take the Ellipsis Drive tour
in less than 2
minutes
'
A step-by-step guide on how to activate your geospatial data.
Become familiar with our user-friendly interface & design
View your data integration options
See how it works